With so many styles to choose from, picking the right pendant light for a space can seem like a true task. So here are some examples of pendant lighting and its use within different spaces around the home to help you know what to look out for.
In the Kitchen and Dining area.
This is the perfect place to demonstrate the use of pendant lighting over a surface – the dining table or kitchen island.  
A cone shape and wide brim will effectively throw light down and over the surface.  With this particular shape, the higher the pendant sits, the bigger the pool of light. As a guide, pendants such as these should sit around 60cm above a table or island so that they are neither in your eye-line nor causing glare from above.  When using multiples, they should a minimum of 30cm apart.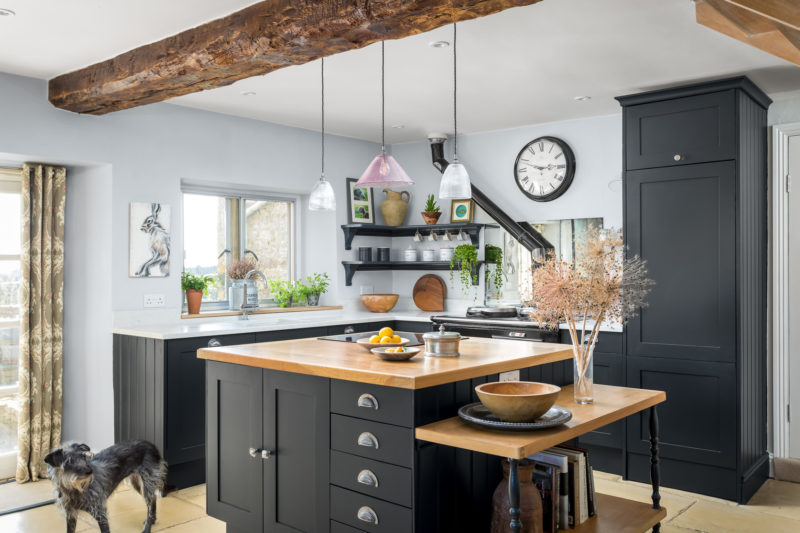 Image credit:  Oliver Grahame Photography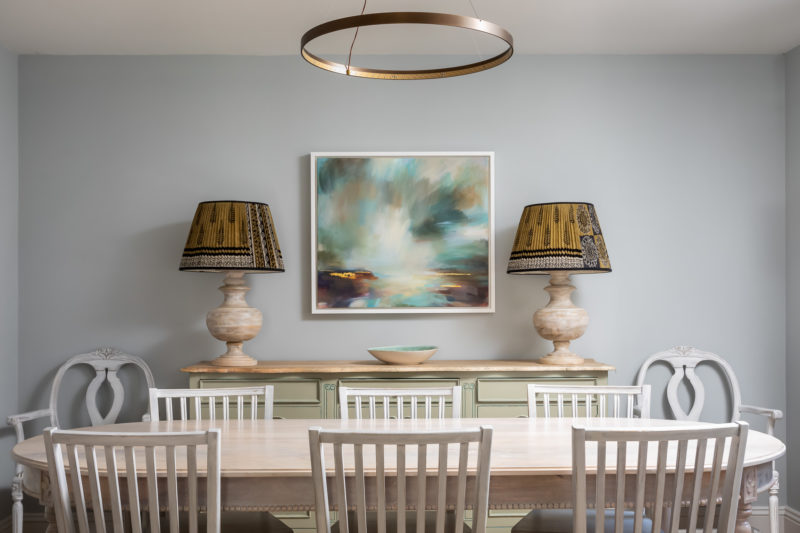 Image Credit: Oliver Grahame Photography
In the Bedroom.
When thinking of lighting your bedroom, table lamps with their soft focus are the obvious choice. But pendant lighting has a place here too. By placing small pendants on either side of your bed, you can create an understated frame whilst saving space on your bedside table.
Ceiling pendants provide general light to the room but also can be a decorative feature.  Soft lines and textures are best for bedrooms – think fabric shades, rattan or cane and globes of feathers – and if you use glass, go for round shapes or curves rather than hard edges.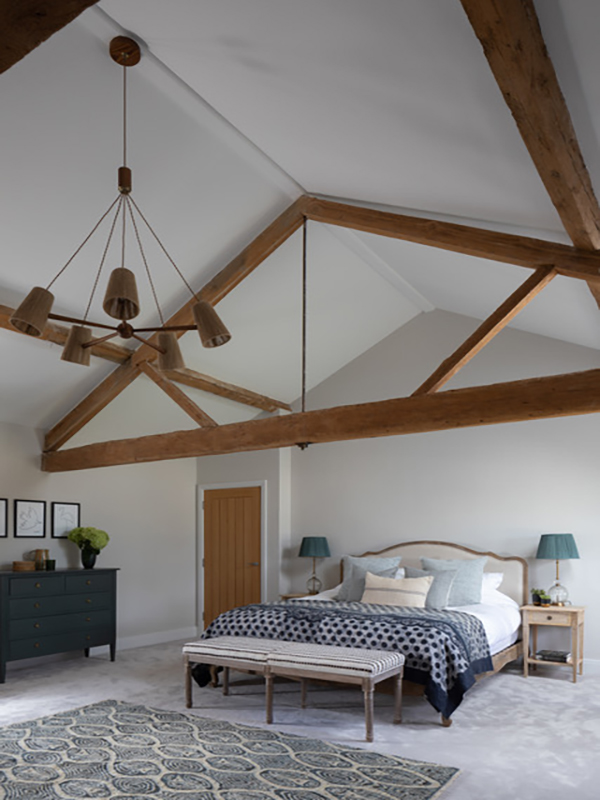 Image Credit: Paul Craig Photography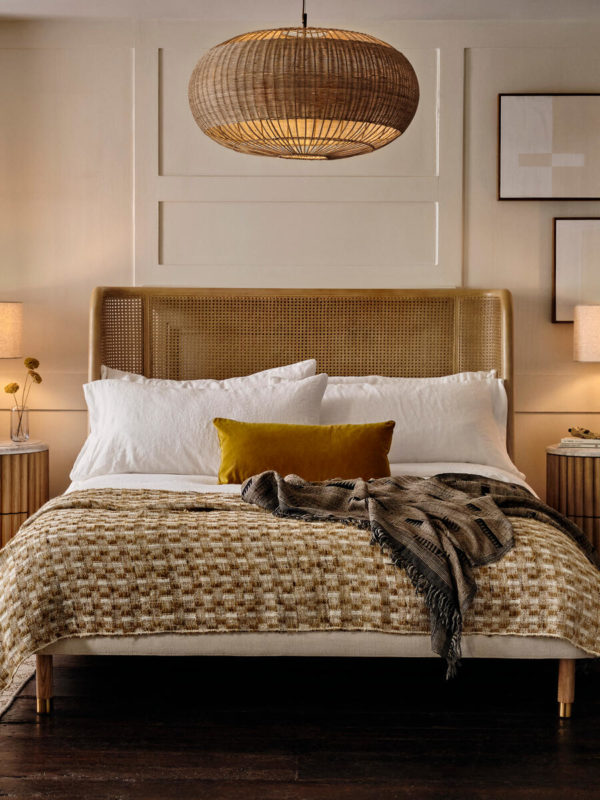 Fill the void created by a vaulted ceiling with a multi-arm pendant.  The Banbury chandelier from Soho Home is made from wood and rope and looks just fabulous amongst the old wood beams of this Cotswold barn conversion.
In the Living Room.
The living room provides a fabulous opportunity to display a large decorative pendant.  They can be functional, providing specific light thrown over a coffee table or footstool, or multi-arm pendants giving more general light. Pendant lights can be a focal point, particularly in a room with a high, vaulted ceiling. Make sure they are hung so that the light is distributed at the correct height and so that they are not a hazard for your tallest friends!  2m from the floor to the lowest point of the pendant is a good guide.
The use of spheres in the round chandelier below is perfect for a large room with high ceilings where light is reflected off the ceiling and into the room below. A dimmer switch is an absolute must when using large pendants such as this to avoid intense glare and create a warm and comforting atmosphere.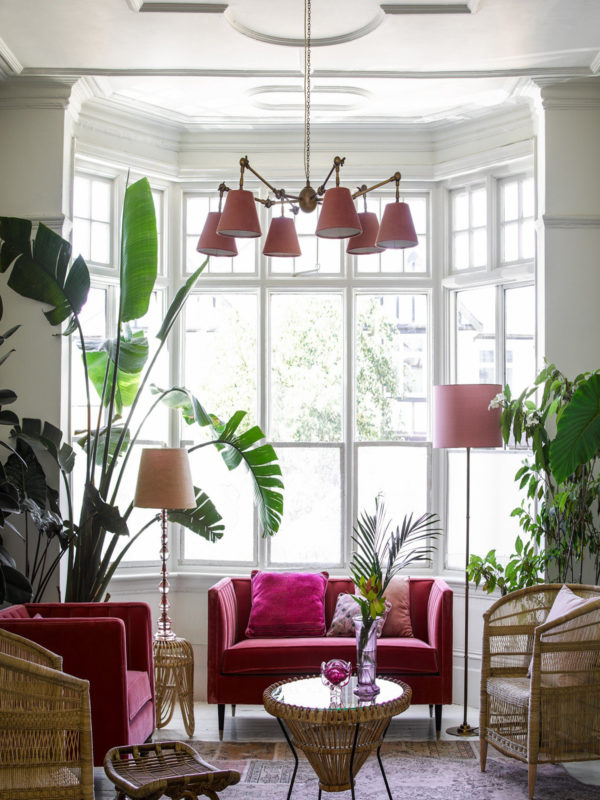 Image credit:  Pooky Lighting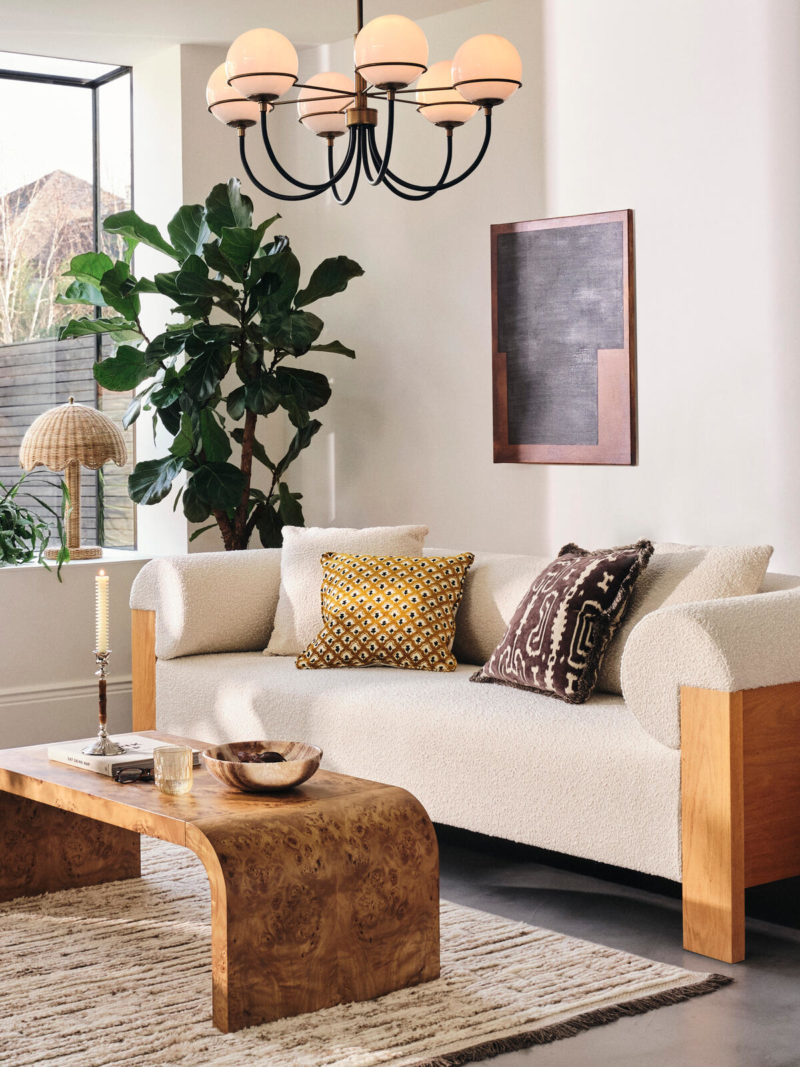 In the Bathroom and Cloakroom.
When it comes to lighting a cloakroom or bathroom, in addition to recessed downlights or spotlights for specific tasks, add another layer of light with pendants to elevate the space.
Using two small pendants on either side of a mirror above a vanity unit will make an elegant picture.
A pair of these art deco style pendants from John Cullen Lighting would be a fantastic addition to any bathroom no matter what the colour scheme.  Be careful to position them roughly 1.7m above the ground to ensure they sit around eye height so that light is diffused evenly over the face.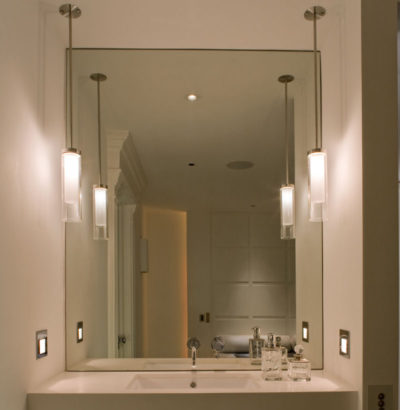 Image Credit: John Cullen Lighting
In the Entrance Hall or on the Landing.
The hallway is an area deserving of a large piece to make the most of a space frequently used, but not often lingered in.
Use pendants over a winding staircase, centred in a square hallway or, for longer spaces, a pair could be used with one at either end.  Hanging a large mirror will help to lighten what is often a windowless area of the home, with reflected light allowed to escape at all angles.
This area is your chance to make a big statement, so don't be afraid to fill taller ceilings with a multi light pendant which will create a real point of interest whilst diffusing light down and creating a pattern over the walls and floor.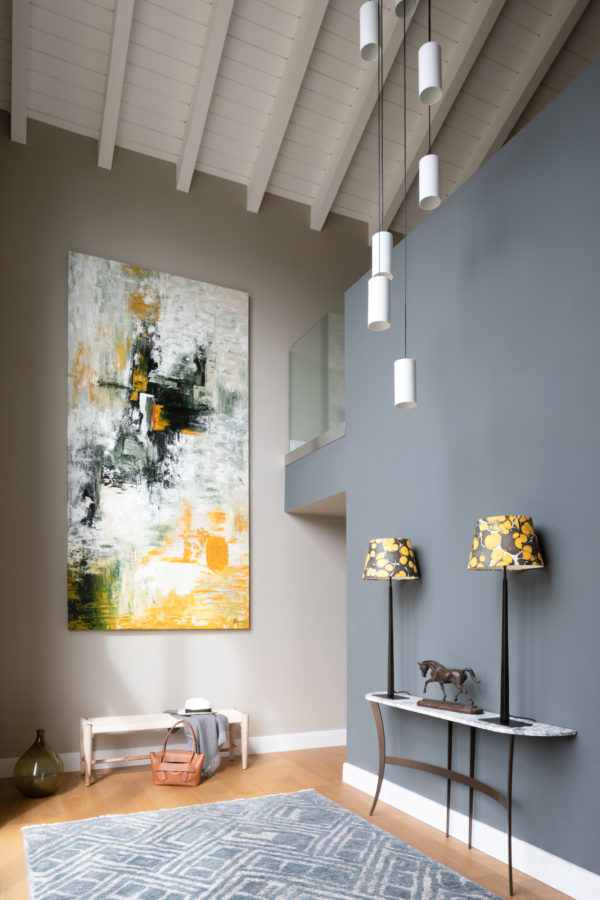 Image credit: Paul Craig Photography
Spoilt for choice?  We can help you pick the best light fitting to suit your room and, with accounts at many of the best known and the more quirky suppliers, we can help you shop too.  Just phone or drop us a line, we'll be delighted to help.
Share this story, choose your platform: