The cottage started life as the local forge located in the heart of the Cotswolds in a small hamlet. The Old Forge, aptly named, has five bedrooms, a kitchen dining room and two living rooms with a rustic theme and features that include exposed stone walls and stripped back oak beams and not one but two inglenook fireplaces.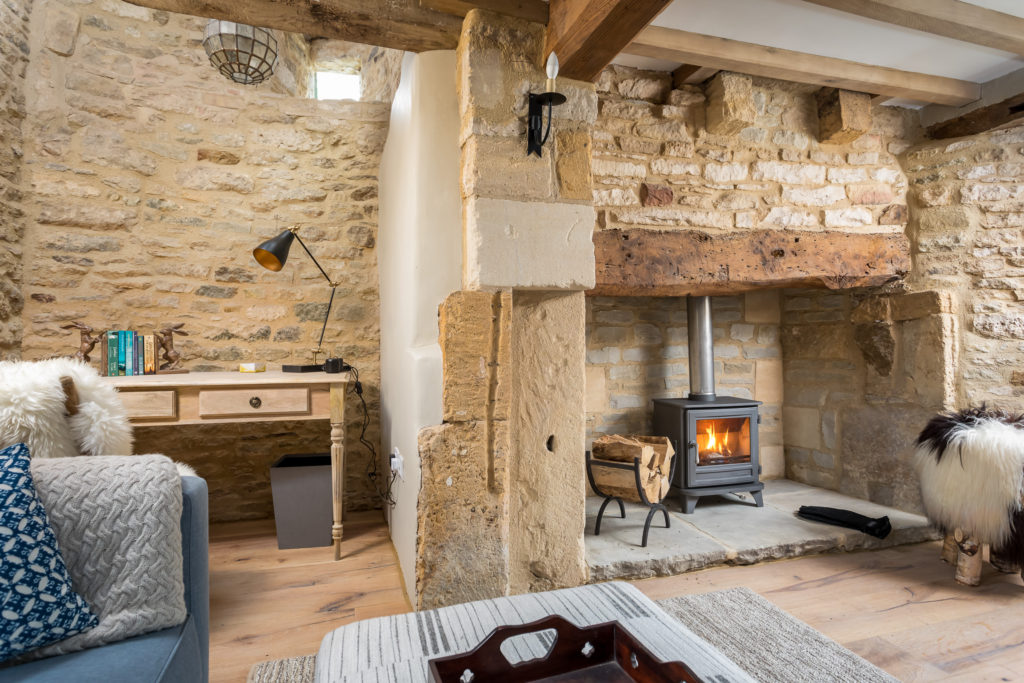 Our client wanted to make the most of the natural features in the cottage but with comfort in mind – it needed to be fit for use in the 21st Century.
It was our mission to dress the rooms with a mix of found pieces as well as contemporary furniture that would give character to the property but would last the test of time. With outings to antique shops and dealers we were able to find pieces that fitted in with the heritage of the property and mixed well with modern contemporary pieces. With the brief in mind it was a lovely surprise to find an old stairwell behind some redundant built in cupboards in the snug. The stone was cleaned up and repointed and the little window cleared of years of cobwebs. The double height ceiling was the perfect place to hang a mirrored pendant from Pooky lights and then put a lovely writing desk in the space for home working. The inglenook fireplace had been blocked up, probably because it was draughty, so we installed a Clearview wood burning stove so that the family could hunker down with a lit fire and watch TV on the modular sofa.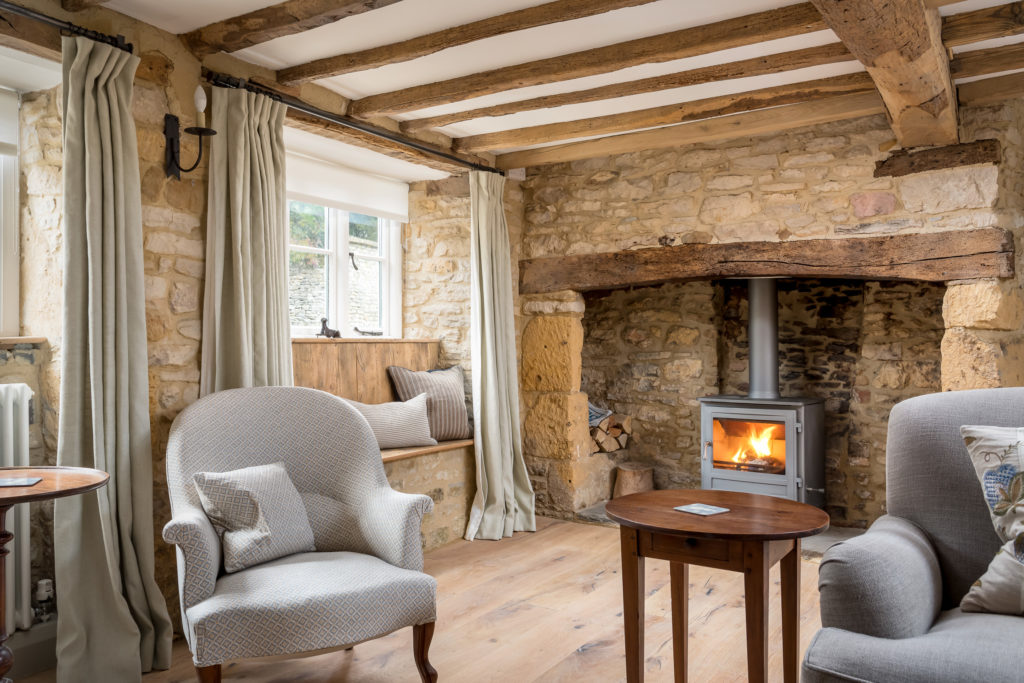 Each room in the cottage has its own style, using a simple palette and a variety of textures to complement the Cotswold stone walls and beams.
In the living room we sourced some old wide elm floorboards to make a window seat that immediately had character because of the age of the wood. The  old carpet was removed and an antiqued oak flooring was picked with a warm honey tone to match the newly sandblasted oak beams. The overall effect is a cosy warm room with deep sofas to sink into and a lovely fireplace with woodburning stove to warm up the room.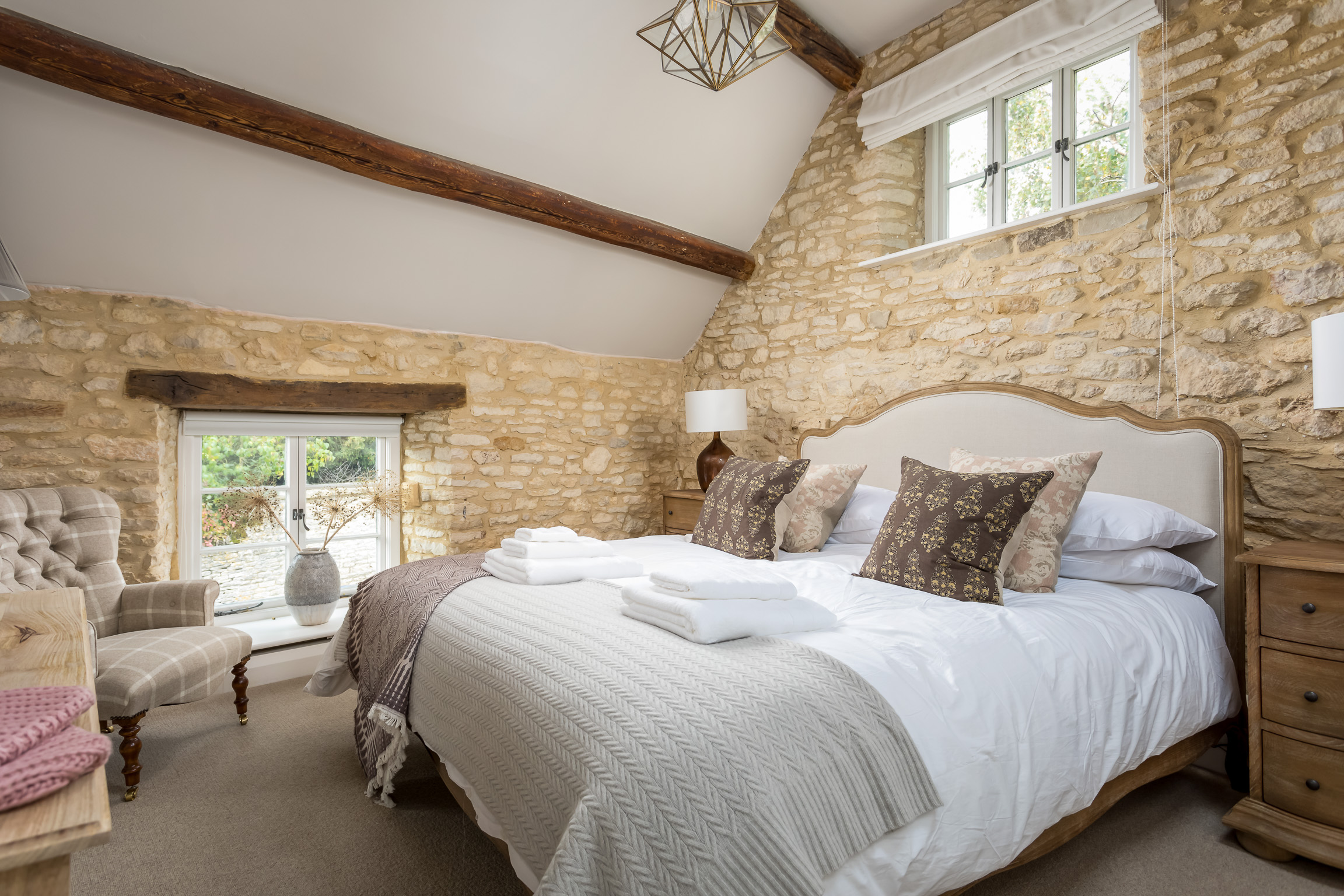 The master bedroom has wonderful exposed beams and a vaulted ceiling, and the quirky windows of varying heights gave the room character and individuality.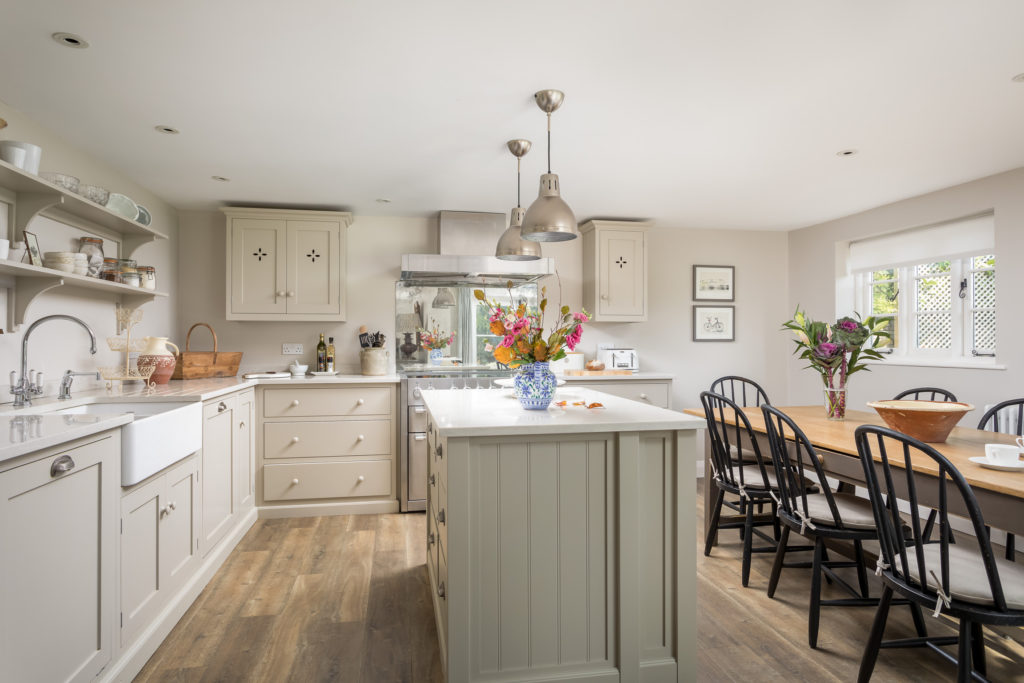 The kitchen and dining area had a different feel to the rest of the cottage as it was a new addition and had straight walls and flat ceilings! This made fitting the kitchen a simpler task. We kept the feel of the cottage by choosing simple Shaker style units and an old farmhouse table with distressed painted chairs to give an accent to the neutral colour scheme. The addition of the antiqued mirrored glass behind the cooker reflects light back into the room without looking too modern.
The overall result is a house that is comfortable and timeless that provides the family a home that will be enjoyed for many years to come.
Share this story, choose your platform: