Gazebo, veranda, pergola. Whatever the shape, style or size, with the lifting of Covid restrictions and summer well and truly on the way, the ever sort-after 'Garden Room' has once again found itself as the hot topic of conversation. Whether your goal is to escape the stresses of everyday life or to create an inviting space for summer drinks with friends, the Garden Room is a versatile outdoor space that can be kitted out for any occasion.  So, here are some of our design tips to help you put together your dream space.
Garden Furniture
Designing and styling a room in the garden gives us the opportunity to explore all sorts of furniture options, from the classic teak dining table (for a more contemporary look, go for concrete or stone top tables) and chairs fit for dinner parties, all the way to hammocks – perfect for lounging in the sun with a book should we ever get the chance!  We mean it when we say comfort is key, so consider picking pieces of furniture that can be moved around the space such as loungers and floor pillows.  Add seat cushions to your dining and lounger chairs for optimum comfort.  If you are looking into investing in a hammock, you may not need to plan around attaching it a tree – those on a sturdy frame can be easily moved to suit your needs.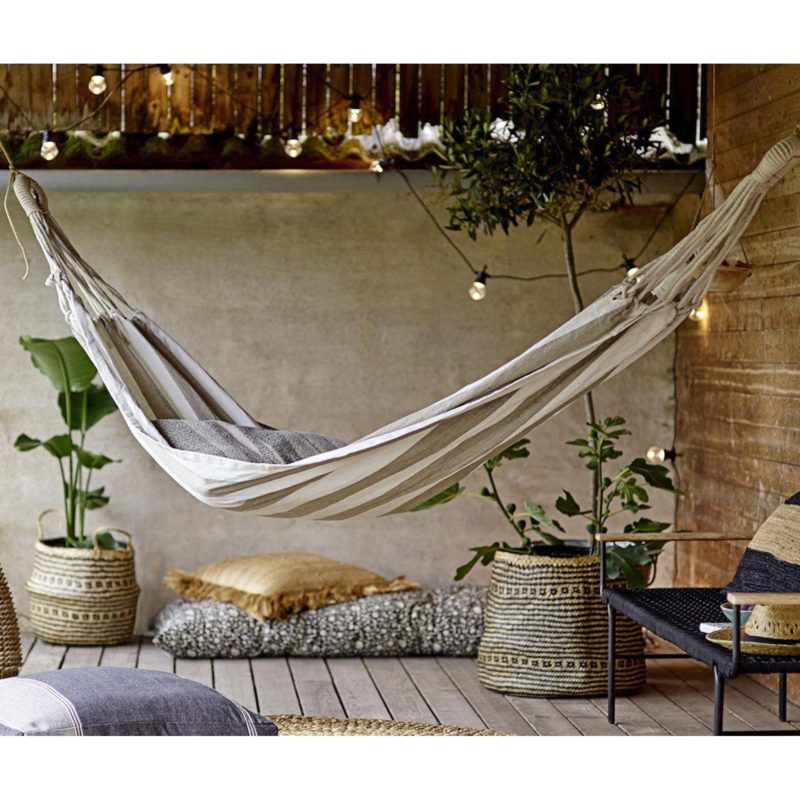 Outdoor Fabrics
The key thing to consider when it comes to choosing fabrics for cushions, chair seats and parasols for your garden room is 'How easy is it to clean?'. There is no point trying to avoid inevitable grass and mud stains, so it's important to include fabrics that will have your space looking like new again after an easy wash. You'll find that many outdoor cushions and seat covers are made from 'Olefin' due to its waterproof nature, making them easy to wipe down – so keep an eye out for this.
Mark Alexander, by Romo has a particularly fabulous range of outdoor woven, linen blend fabrics.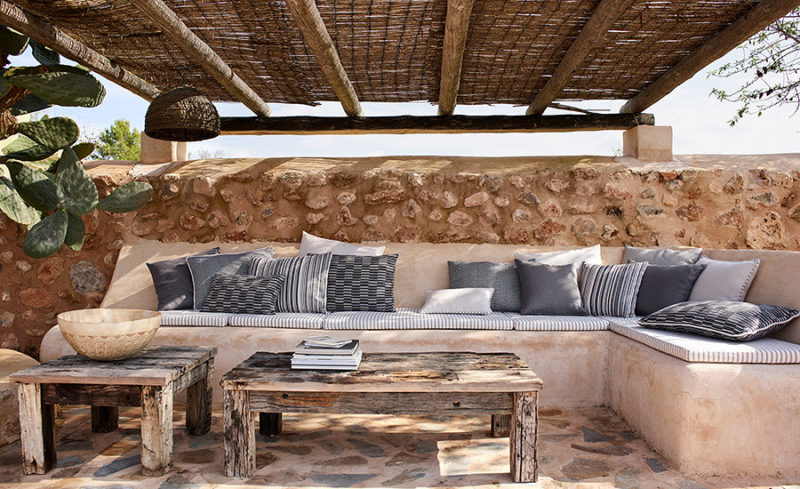 Lighting
When it comes to lighting your garden room it really depends on the type of structure you have. If you have mains power, lamps and an overhead pendant or downlights are an option. But don't worry if this isn't the case – battery operated festoon lights are always a tasteful touch that can be strung up overhead or around the perimeter with shepherd's hooks. Lanterns (either candle or solar powered) also make a great addition to any garden party's dining table.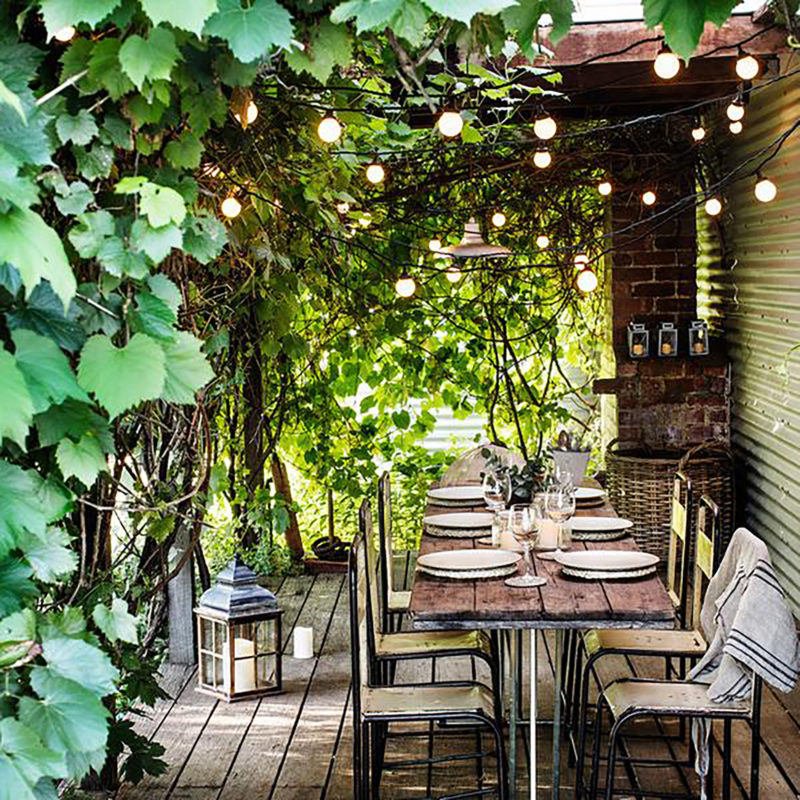 Heating
Garden rooms are the perfect space for providing shade on particularly hot and sunny days, however it's important to keep your guests and yourself warm as the evening draws in and the wind and chill begin to pick up. With British weather being so temperamental, it would be a surprise to find out that you didn't know at least someone with a patio heater! The options for outdoor heating certainly aren't limited; from 'talk-of-the-town' fire bowls and chimineas to discreet hanging heat lamps. If you're not a fan of the idea of an open flame fire, choose a wood burner with a chimney to direct smoke up and away.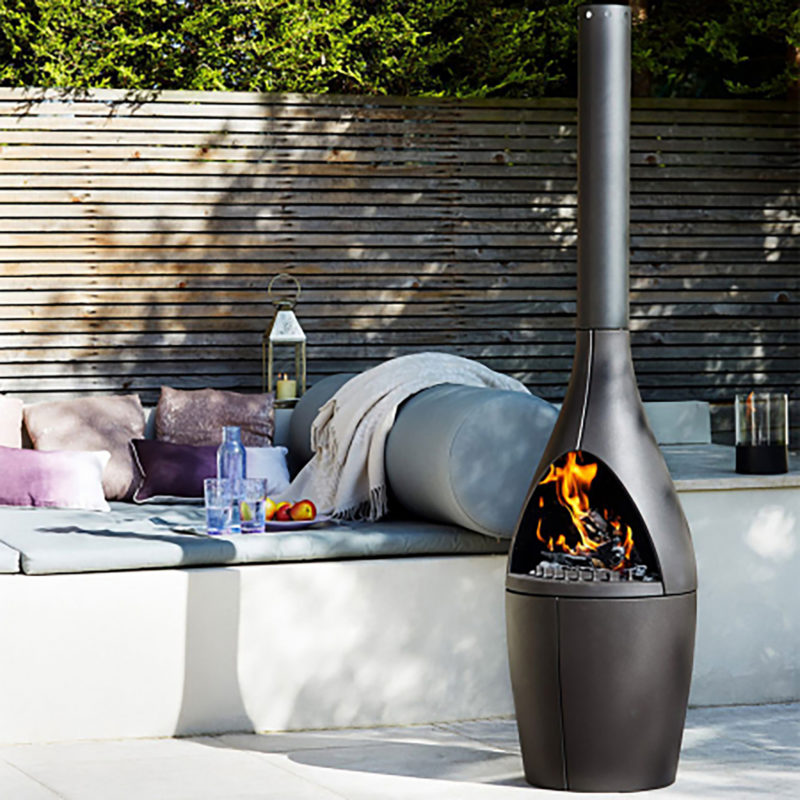 Creating a place to entertain, or just to hang out in the garden is one of the most fun parts of our work.  If you'd like help or inspiration, please getting touch – we'd enjoy being involved.
Share this story, choose your platform: