Our 2021 goal is the She-shed. If lockdown has taught is one thing, it's that we all need a room of our own.  Virginia Woolf may have been talking about writing fiction, but we can pretty much assign it to any aspect of a woman's life.  
Traditionally it's been men who've been prioritised in the 'place to escape' hierarchy.  Whether it be a shed, den, garage or golf course, it was understood that after a hard day's work they would need a place to escape the cacophony of family life.  Women didn't need this they had … the kitchen? We think not.  There was also a trend to build places to put the children.  Little ones got their playhouse, tree house or castle, teenagers got their games room – and then we realised that it wasn't the kids that needed sending to the bottom of the garden, it was us.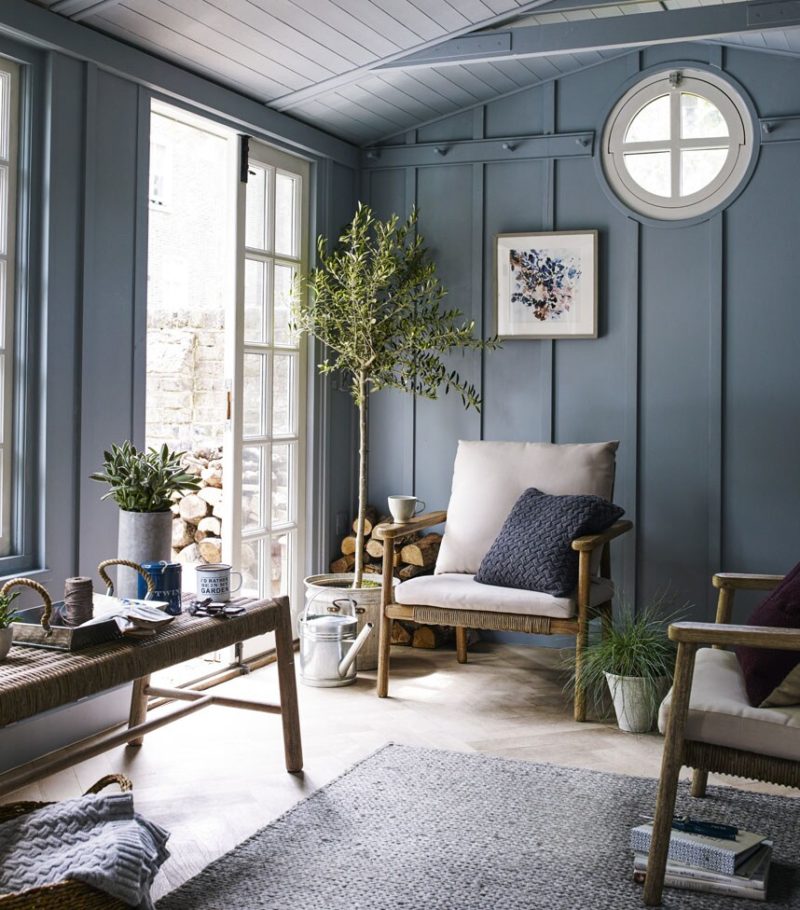 And so began the rise of the she-shed -or Garden Room. Not so much a 'girls only' space as a 'girl's only space.' This is not just a man-cave with curtains, these are creative, beautiful rooms to find peace, and a piece of ourselves.
Caitlin Moran, in her new book More Than A Woman, talks about her shed where she retreats with her 'coven' 
 "We like to meet away from other people, were it warm enough, we probably would meet in the woods and dance naked around a fire, but as this is Britain in September, we all go to my shed at the bottom of the garden, where we gather around a single bottle of wine …
Fit for purpose
The first step, is to decide what the space is to be for – what do you want? Is this going to be a place for doing nothing, or a hive of activity?  Is this going to be a place where you can take our friends or is it just for you?  The sole purpose of this space is to make you happy.
Maybe you just need a place to be, to read, relax and listen to music.  Here you can fill your room with comfortable seating, cosy cushions and throws in any style that take your fancy.  This has the added bonus of dampening the sound when it doubles up as the 'rage room' for those days when you really do need to escape your family and scream.
If you have a hobby or interest, a she-shed is the perfect place,  not only does it give you peace and quiet, it also means you can have everything you need arranged just as you like it, and you don't have to pack everything away each and every time you've finished.  Painting, sewing, pottery, yoga, all can be left everything can be left exactly as it was, ready for action next time.
Identify your space
Now you know what you want, you can go out and find it.  You may have something already that will do just the job.  A potting shed, outbuilding or garage will do nicely, provided it is in good condition.  You may want to start from scratch, either with a brand new shed or go all out on a purpose built garden room. The sky's the limit, and all that really confines you is your space and budget.
Top of the wish list has to be these wonderful studios from Bert's Boxes.  They are beautifully raw and yet refined. The Study Box is 11.5sqm and starts from £27,500.  Their more grown-up boxes include kitchen and bathroom too.
Essentials you should consider to really set the mood
Location is key. It should provide the best views of your garden and also belong to its surroundings.
A Wood burning stove. Not only does it make the place warm and cosy, it will also dramatically extend its use throughout the seasons.
Lots of natural light is ideal but do you also need lighting for specific tasks, or a softer light for relaxation.
Although this is your place to get away from it all, Wifi is a must if it is to be used as an office, or even just a place to hide away with Spotify or Netflix.
If you are entertaining, you may want to consider a room with a wide open front, so people can spill onto a patio or decking area.  A fire pit and some outdoor chairs are a fine addition to a garden room and extend its use considerably.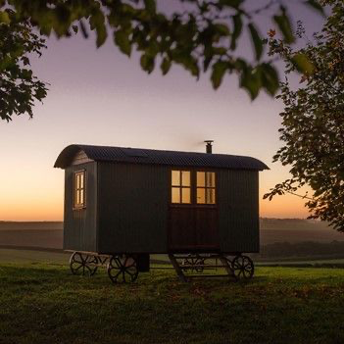 Don't forget the ubiquitous shepherd's hut.
A modern cedar clad and glass box may not be the best fit for your country cottage garden but it might be or it could be the perfect dramatic focal point of your outdoor space.
It's what's inside that counts
Inside your shed is where you can really let your imagination run wild.  There's no need to take anyone else's opinion on board, it doesn't have to complement that table or match the flooring.   So your shed is the perfect opportunity to indulge your vintage, flea market dreams.  Fabric you love, quirky things you have picked up on your travels, can all find a place here.   Equally, this could be the sleek, uncluttered, modern space that you haven't been permitted to create in the house.
We really could talk sheds all day – we just hope we have given you plenty to think about.
If you'd like to talk through your ideas, or need more help and guidance, do get in touch.
Share this story, choose your platform: